Money Pig Addiction To Findom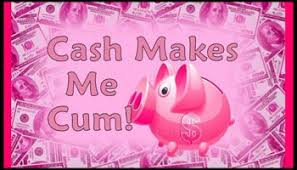 Are you a money pig with a strong, uncontrollable addiction to Findom Phone Sex? Do you often ask yourself why you engage in this behavior? The answer to your question and more can be found right here at The Addiction Bank.
I've been engaging with a certain money pig for the past several years now and his addiction comes and goes.  His name is Fluffy and his Findom addiction is definitely real.  I immediately diagnosed him as a lifetime money pig after the first year of dealing with his on and off addiction binges.  For some Findom is a fantasy but for him it's a real addiction and he's engaged in it for years.  He is also a pantyboy and a cocksucker so he has several addictions he is dealing with.
The thing with Fluffy is that he has learned to control his addiction. What I mean by control his addiction is that he knows when it's time to quit.  It doesn't mean that he doesn't spend literally thousands before he reels himself in, because he does.  Then he begins to feel the pain and guilt of his addiction. He will disappear for a bit but his return is guaranteed.
Money Pig Has Multiple Addictions
Besides being a money pig, as I previously mentioned, Fluffy likes to wear panties.  When he wears panties, he loves to head to a glory hole and find a nice big, black cock to suck!  At times he will pay to suck a cock, furthering his Findom addiction.
Being Fluffy can be daunting at times!  Imagine being in a hotel room putting on your pretty black thong, knowing a big black cock is waiting for your little faggot ass!  Coupled with the fact you're on the phone with your Findom Mistress getting wallet raped!
He squeals and snorts like a pig!  The black thong is wet from his little clitty dripping.  His lips can't wait to suck that big black cock and get it hard.  Then he pays to get fucked by the big, black cock!
At last there is relief!  His addictions have all been satisfied for the time being.  There are times when he doesn't feed all his addictions at once.  Sometimes a good wallet raping is all he needs!
Money Pig Looking To Meet New Friends
This week Fluffy has returned and he's looking for new playmates.  I just happen to have a new Mistress for him to meet.  Mistress Lillith will be joining the Addiction Bank.  We share a common interest, that being Financial Domination and Blackmail.   I'm sure she will enjoy meeting Seth!
In addition to joining The Addiction Bank, Mistress Lillith and myself have taken to the air waves to engage in some podcast therapy for your listening pleasure.   Join us over at  Kink and Coffee 
Our shows are live and full of unrestricted banter! Perhaps Fluffy will join us for an interview one of these mornings.   We are selectively seeking new addicts to interview.   Contact Mistress Lillith or myself for a chance to make your live podcast debut.
To read my other blog, your phone sex therapist.com click HERE
Until later little piggies,
Dr K.