This Little Shopping Piggy Has No Bang For His Buck!
Shopping Piggy was on the loose this weekend! But, as you can see you certainly don't get much "bang for your buck" ! We were having a little texting fun on Friday night.  I informed this little piggy it was time for a new photo.  Reluctantly he gave in and sent me this photo. ~Gales of Laughter~ What would Amazon think?  Probably not in their marketing plan for 2018.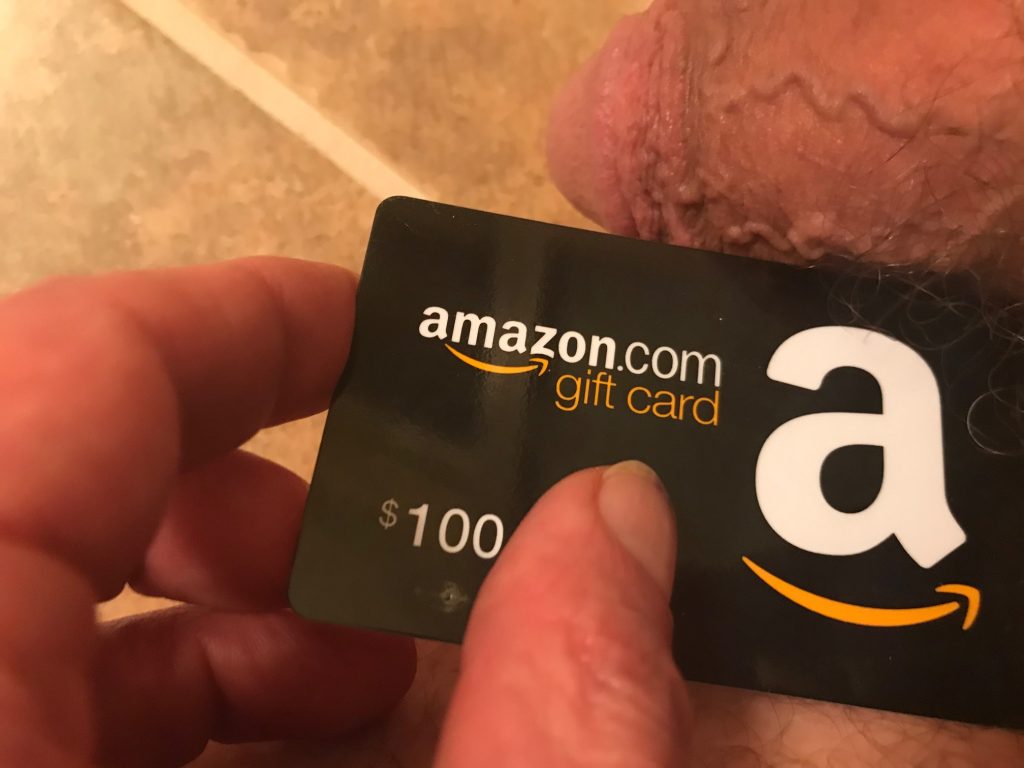 Look at that pathetic little weenie! Is it any wonder why he has to pass out 100 dollar Amazon cards for attention?  But that's just the beginning with our little humiliated little s piggy.  His addiction doesn't stop with Amazon Gift Cards and Humiliation.
More Humiliation Converts To More Cash
Would you look at that little worm! Lot's of squiggly veins to! It also appears he is lacking on his man-scaping skills.  Do you think this humiliation hurts piggy's feelings? No!  The more you humiliate him, the more excited he gets. The more excited he gets the more he spends.  Yes! Spend piggy Spend!
His need to feed his addictions were running high this weekend.  Not only did he want to spend money, he also wanted to feed his other addictions.   Humiliation in various forms, cock sucking, and needing his little faggot hole drilled.  He drills his hole in his office…..just a noteworthy FYI.
Shopping Piggy Craves Another Mistress
With the holiday weekend quickly approaching, Piggy's playtime was going to be curtailed.  He felt this urgent desire to have another Mistress play with us.   In all actuality, it was more like desperation! So why not double the pleasure and spend more money?  Can't argue with that logic!
Finding one of my favorite girls was not so easy!  Both Mistress Lillith and Miss Rachel were already traveling for the Thanksgiving Holiday.  What to do?  I know! Call one of my friends!
Fluffy was a bit nervous about that idea, but I could hear the excitement in his voice.  The thought of talking to a woman who has no affiliation with  phone sex lines was very appealing.
I called my life long friend Issa.  She was in the mall shopping.  I quickly explained what I needed her to help me with and she started laughing hysterically.  But then I reminded her who Fluffy was and that peaked her interest. There's a story to that, but I'll save that for another blog post later.
Shopping Piggy Blows His Load And His Wad
I made the connection and we were all off and talking.  Issa asked Fluffy all the right embarrassing questions, and got right into the humiliation and financial aspect of the conversation.
My friends are amazing! Fluffy thinks so too.  He asked Issa if she would consider chatting with him at a later date or joining the Addiction Bank.  He answer on both counts…..Yes!
I told piggy it was time to burn, and by that I meant…..time for the grand finale of wallet rape! He was, after all on a time schedule.  With that in mind……….wallet rape is very powerful….. and some naughty words from Issa and I,  he also blew his other load.
Loads of cash and loads of cum.  Fluffy was a happy man with a flight to catch.  Me, I'm headed home for the holidays too.  Issa and I will meet up and shop until our funds run out……temporarily.   The beauty of having a money pig is there is always a way to entice him to spend more.
To read my other blog, your phone sex therapist.com click HERE
Happy Holidays Deviants!
Dr. K